The West Coast Surf Club are delighted to announce the 10th annual Lahinch Longboard Competition and festival taking place between 9am and 8pm on Saturday and Sunday 7th & 8th September.
The festival has linked up pubs and restaurant deals all over town with live bands, artisan food sellers, photographers and artists showcasing their work and not to mention that there will be awesome prizes for not just 1st but also 2nd, 3rd and 4th place making this year's competition tighter than ever before! Ist Prize is a board by Ian and 1st Girls is a Board from BIC, other prizes include wetsuits, board bags clothing sunglasses , Huku Board etc from Alder, Ronell , Emerald, Huku.
Surfers (beginners and experienced), non-surfers, families, kids, friends, neighbours and anyone up for a fun filled weekend jam packed with activity are welcome.
O Neill will be giving surfing pointers for improvers with pro longboarder Ben Skinner during the day. We also have invited other pro surfers like Brian McEvilly ( tandem) Tyler Hatzikian!
Competition Registration
€15 and all participants must be full paid up members of the Irish Surfing Association for insurance purposes.We encourage all surfers to give it a go even if its your first competition! It's friendly and relaxed and really really fun! 😀
Everything else: Music/Art/Photography/Movie showing/Surf training is Free and open to the public!
Competition
Interested participants are invited to register by downloading the form online at www.westcoastsurfclub.com
Or
www.isasurf.ie and returning same with entry fee on/before 30th August to The West Coast Surf Club c/o Lahinch Surf Shop.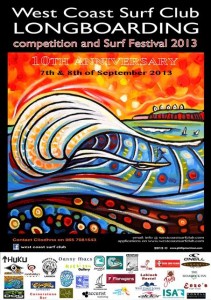 Themed Pubs/ Restaurants
This year we're turning the competition into a whole town festival with live music bands and deals in local pubs and restaurants that are all hosting their own theme in conjunction with the event.
Artists
We have also hired Seaworld for the weekend in September and all the local artists and photographers will be able to display their work. All entry is free and all are welcome! Music, slide shows of previous photos, and short films will also be shown. Again Entry is Free!
Join the event page on Facebook