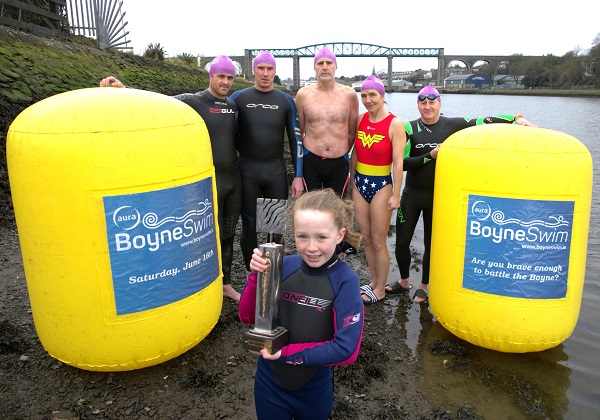 ARE YOU BRAVE ENOUGH TO BATTLE THE BOYNE?!
REGISTRATION IS NOW OPEN – https://events.fitlive.ie/boyne-swim-2018
The newly titled Aura Boyne Swim will take place on Saturday the 16th June 2018 (Start time 1pm TBC)
Drogheda Triathlon Club will host the Aura Boyne Swim 2018 once again with the continued and greatly appreciated support of Drogheda Port Company and Louth County Council.
The Inaugural Boyne Swim took place in 2014 and was a huge success with 150 swimmers taking up the challenge of completing the 2.7km course.
The hugely experienced swim coaching teams at Aura Leisure have combined their expertise to put together a training program for the swim that will be free to all participants for download on the Aura Leisure and Boyne Swim websites and will be available to pick up in all of the Aura Leisure centres from February 12th, 2018.
Aura Leisure will also have a range of tailored swim courses for those who need to improve the swim stroke and stamina before the big swim!
A special thanks to our friends who braved the cold for our promo photo shoot, Andrew Jein (Drogheda Triathlon Club), Ken Shevlin (Drogheda Triathlon Club), Ray Donagh (Drogheda Triathlon Club), Louise Purcell (Winner of Boyne Swim 2017, Ladies), Mark Kimmins (Drogheda Triathlon Club) and the very special Boann Rock-Tivnan (Youngest Competitor for 2018).
Ray Donagh of the Boyne Swim says, "Drogheda Triathlon Club invite you to take part in this majestic swim in the River Boyne through the historic town of Drogheda and see it like you never saw it before. We are looking forward to launching the event and promoting it to a much wider audience so that they can experience the wonder of open water swimming."
Aura Leisure's Chief Executive, staff and members are absolutely delighted to be partnering with the organisers of the Boyne Swim, "It is a brilliant event on the Irish Open Water Swimming Calendar and one that people of all levels can take part in. It's just another step on our way to helping make a healthier, happier Ireland!"