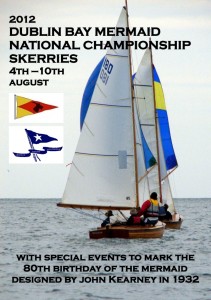 "Mermaid Week" will be held in Skerries from August 4th to 10th, 2012. This is a very special occasion as it coincides with the 80th Anniversary of the boats original design in the 1930s by Mr. John Kearney.
Retaining its classical tradition, Mermaids from all over the country will arrive in Skerries to compete in the annual Dublin Bay Mermaid National Championship. The festivities and celebration commence on Saturday 4th August with a "Parade of Sail" from the south beach in Skerries around to the harbour.
The seaside resort of Skerries is expected to draw a crowd to watch these traditional boats sail in formation around Red Island on Saturday 4th August, before commencing a week of dramatic close combat racing visible to all from the shoreline.
Skerries Sailing Club expects over fifty entries, with hundreds of keen Mermaid sailors seeking championship honours as well as fun on the water. Fully rigged, these beautiful classic wooden boats will look spectacular racing each day in Skerries bay during the week.
Mr. Sam Shields, Commodore of Skerries Sailing Club stated:
"Mermaid Week this year is a very special occasion, not only will the championship be the most competitive in the history of the class, this event has motivated every Dublin Bay Mermaid owner, sailor and crew alike to get their boats, old and new, out on the water for the 80th Anniversary Celebration of this amazing classic wooden boat".
Mermaid Week traces its origins back 1970 when the first Mermaid Week was held in Skerries. Prior to 1970 the Championship was decided on the basis of Regatta results from 1953 to 1969. Each year 30 to 50 Mermaids race against each other in this seven day championship.
With an active fleet of over 60 boats, it remains one of the largest racing fleets in the country and continues to flourish. The construction of three new boats has been completed this year. Nos. 190, 191 & 192 were launched at Rush on 7th July built locally under the management and experience of Enda Weldon.
A number of 'home town boats' and previous championship title holders will also be competing to win the national championship title on the 80th anniversary of the class. As part of the celebrations, 'The Voyage Home', organised by Therese McHugh a former MSA President and local Skerries resident, has seen a Mermaid (no. 26) leave Foynes, on the Shannon estuary and sail via South Coast up the East Coast intending to arrive in Skerries in time for the Championship.
The Championship has had immense support from the local community, with individuals and businesses alike contributing the organisation and success of Mermaid Week 2012.