We have all seen the evidence of marine litter along Ireland's coastline and now for all you beach lovers out there here's an opportunity to do something about it! An Taisce's Clean Coasts programme is delighted to announce the #2minutebeachclean competition. Take a little time every time you go to the beach and do your own 2 minute beach clean. Take a snap of the litter you collect and post your snap on instagram/twitter/facebook with the hashtags #cleancoasts #2minutebeachclean. It's as easy as that and be in with a chance to win a Clean Coasts hoodie!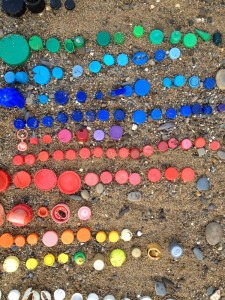 This simple inspired idea came from Martin Dorey (One Man and His Campervan). Martin started doing these mini-beach cleans when he visited the beach. Since sharing his idea many more people have been getting involved and Clean Coasts are delighted to support this fantastic initiative.
Speaking about this initiative, Annabel FitzGerald, Clean Coasts said, "There are over 360 Clean Coasts groups in Ireland that carry out organised beach cleans removing large amounts of marine litter from the environment. The #2minutebeachclean idea is simple and inspiring. It encourages all of us to give something back each and every time we enjoy a walk along the beach or a take a dip in the ocean. Every piece of litter removed from the marine environment is a piece of litter that won't pollute our oceans or be ingested by marine life!"
Speaking about his idea, Martin Dorey said, "The 2 minute beach clean can be whatever you want it to be. There are no restrictions or rules. You just pick up a few bits whenever you go to the beach and put them in the rubbish or send them off to be recycled. Simple. And don't forget that every piece of plastic you remove from the marine environment is a piece of plastic that will no longer entangle wildlife, break into thousands of tiny pieces and end up in the food chain or ghost fish for eternity. Every piece counts."
 How to?
·         Follow Clean Coasts – @cleancoasts on Instagram/Twitter/Facebook
·         Do a 2 minute beach clean
·         Take a snap of the marine litter you collect
·         Post your snap on Instagram/Twitter using the hashtags  #cleancoasts #2minutebeachclean or post your picture to our Clean Coast Facebook page including the hashtags in the post – don't forget to tell us where you took your snapped your shot! Ensure your location/Photo Map is turned on when using Twitter/Instagram.
·         Dispose of the waste you collected properly, recycle it/bin it!
·         Be in with a chance to win a Clean Coasts hoodie!
·         Be safe when you do your #2minutebeachclean, check out Martin Dorey's blog here for safety information.