You may already be aware that the carpet-sea-squirt (Didemnum vexillum) was discovered in Strangford Lough in 2012.
This marine animal has caused major difficulties around the world, because of its ability to quickly out grow native organisms and cover a variety of surfaces, including marinas, fishing equipment, boat hulls and habitats.  As part of a management protocol to control and minimise further spread of the sea squirt the DOE are currently undergoing trials to remove the only known active colony of the sea-squirt, which is currently growing in the vicinity the Ballydorn lightship. In addition to this, we are calling on all divers to record any D.vex they may encounter during dive trips, specifically in the Strangford area.  Unfortunately the squirt is difficult to identify in its immature form, as it can look like many other species of sea-squirt, however in its mature form the animal is very distinctive.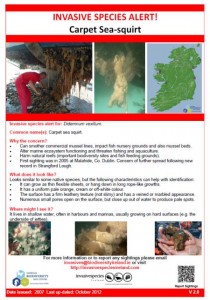 Should you encounter this invasive species whilst diving, please call the NIEA pollution hotline 0800 80 70 60 or contact the Strangford Lough Ranger (Strangford.LoughRanger@doeni.gov.uk)
Please see the attached species alert poster for more information and guidance on how you can prevent its spread.
PLEASE DO NOT ATTEMPT TO REMOVE OR DISTURB THE ANIMAL, AS THIS WILL CAUSE IT TO SPREAD FURTHER.