Keith Barry is more than Ireland's top mentalist, he is also one of the country's most passionate anglers and he is encouraging kids (of all ages) to get hooked on angling during Fisheries Awareness Week 2013.  This popular week of angling and inland fisheries events will run from 11th May to 19th May at venues all across the country.
This is the 5th year of Fisheries Awareness Week and with 50 events in 16 counties it looks set to, once again, be a huge success. There are events dedicated to sea angling, pike angling, trout angling, coarse angling and salmon angling as well as family fun days, school days and more. With so much going on there's sure to be something happening near you, so why not find out more inside the Fisheries Awareness Week website www.faw.ie.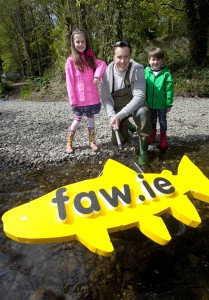 A busy work schedule kept Keith from the water for too long and in the last few years he has returned to fishing and now gets out as often as he can. For Keith angling is one of the greatest pastimes and he is keen to see more take up this rewarding activity. What better way to introduce your children to angling, or get started yourself, than to take part in Fisheries Awareness Week.
Minister Fergus O'Dowd, TD heaped praise on Keith for his involvement in Fisheries Awareness Week. "It's no surprise Keith loves angling as who could fail to be hypnotised by the magic of this absorbing activity," he quipped. "Keith has a real love of angling and a genuine interest in the outdoors. This passion really shines through when he is sharing is love of angling with the next generation. "
Fisheries Awareness Week aims to encourage youths and adults alike to take up the pastime of angling but also works with existing anglers to heighten their awareness of the environment. The event is run by Inland Fisheries Ireland in conjunction with fishing clubs, charter boat skippers and private fishery owners. With so many events in so many locations why not try something new during Fisheries Awareness Week.
Looking forward to the week's activities is Suzanne Campion Head of Business Development with IFI, "Fish swimming freely in our waterways have always been seen as a barometer of environmental health and recreational angling is a great way to experience nature first hand. Fisheries Awareness Week offers loads of opportunities for people, young and old, to get out on the water and go fishing. Everyone from experts to complete novices are welcome but we hope that as a result of the week more people will take up angling as a pastime."
Events will be taking place nationwide from Saturday 11th of May to Sunday 19th May inclusive. Events are free and open to all, with family fun a priority. Check out events in your area by logging on to www.faw.ie