Clean Coasts Big Beach Clean weekend will be taking place on the 19th, 20th and 21st of September. We are delighted to be teaming up with the International Ocean Conservancy again for the International Coastal Cleanup event. Last year 645,015 volunteers in92 countries removed 5,580 tonnes of marine litter from the world's oceans.
If you would like to join the movement for litter free seas and be part of the world's largest coastal cleanup event and marine litter survey then please register now! Once you have registered Clean Coasts will add your cleanup to our map and we will send you your Big Beach Clean kit which includes an information pack, bags, gloves, litter pickers, posters and marine litter survey cards!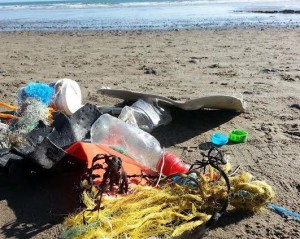 Approximately 10 million tonnes of litter end up in the world's oceans and seas each year. Marine Litter refers to a range of materials which have been deliberately discarded, or accidentally lost on shore or at sea, and it includes materials that are carried out to sea from land, rivers, drainage and sewerage systems, or the wind.
By surveying what we collect we can garner a picture of the types and abundance of marine litter we find on Ireland's beaches. If you return your marine litter survey either online or by post you will be entered into a draw with a chance to win one of two €250 prizes!!!
If you would like any more information about the event please feel free to contact us.
Thanks for all you do for our beaches, seas and marine life.
Please help spread the word!!!
#BigBeachClean