Day 3 and PRO Con Murphy made it clear from start he was going to try and get 4 races in, especially after losing a race on Tuesday and with an uncertain forcast for Thursday and friday.
However, with over eager sailors and a few big shifts, the first race only got going on 4th attempt. The fleet was reduced as a number of sailors fell foul of black flag on the recalled 3rd start.
Irish boat Jack Ryan got a corker of a start and along with fellow Irish sailor Dougie Elmes, the pair lead the field down the first leg swapping places but keeping rest of field at bay. South African Ryan Robinson and GBR Isabel Davis fought over other placings around top mark and down the spinnaker leg. Irish sailor Jack Maye dragged himself up into 7th.
A steady enough breeze saw Dougie Elmes and Jack Ryan consolidate top two positions for an Irish 1, 2 and great start to day 3 for the Irish. SA Ryan Robinson consolidated his series lead with a 4th.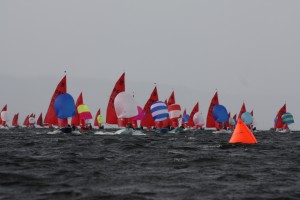 The second race started under black flag, and the fleet heeded the warning and got away clear. Dougie Elmes again stormed up the beat for another top 3 position but SA Ryan Robinson was again not far away but out of the left (Aus ) Tim Pilbeam led at first weather mark and never lost the lead all the way to the finish. There was a ding dong battle all the way to the line between GBR Sarah Richards, Dougie Elmes (IRL), Ridgely Ballardes (PHI) and SA Ryan Robinson leaving the South African leading the series now from Ireland Dougie Elmes with Sarah Richards (GBR) in third.
With wind freshening all the time up to 18 knots, the 3rd race under black flag got away clear. The chop and stronger wind now was making life difficult for some of the fleet with capsizes and broaches across the course. SA Ryan Robinson was again to the fore on first beat, closely followed by GBR Katie Davis and Ridgely Ballardes (PHI). Alfie Wisdom and Tiarnan Dickson were best of the Irish with a strong 4th and 6th place down the spinnaker leg but  Dougie Elmes was struggling to stay in top 20. GBR Katie Davis took lead on downwind and never lost it with SA Ryan Robinson clearly delighted with a 2nd to consolidate their series lead. PHI Ridgely Ballardes came late on last 2 legs to pick up a very valuable 3rd place. Best Irish was Alfie Wisdom who worked hard to take a 4th.
With the wind now constant at 18 knots the 4th race was always going to be a struggle for the less experienced and younger crews.  PRO Con Murphy went into sequence with another black flag start that ensured a clean start and recovered Tuesday's lost race. There was only one boat going to win this race and SA Ryan Robinson clearly in form roared up the beat and never looked back and extended his lead at every mark. Again Dougie Elmes struggled early on but managed to claw his way up to 11th and ensure Ireland would have a boat in the mix going to Day 4. GBR Sarah Richards had a great race to take 2nd and along with Joanna Calderon (3rd) and Katie Davis (5th) ensured a good day for GBR. Ridgely Ballardes (PHI) had a capsize and ultimately retired but still lies in top 5 heading to Thursday.
SA Ryan Robinson now looks to have a formidable lead at the top of the table adding a race win to an already very consistent results card. Ireland Dougie Elmes lies 2nd, closely followed by Katie Davis, Sarah Richards (GBR) and Ridgely Ballardes (PHI) with hard to see a winner outside these 5 but clearly South Africa's Ryan Robinson is favourite at this stage.
With 8 points between 2nd and 6th this looks like it will go to the wire for the minor placings with Irelands Dougie Elmes having a great regatta.
All results are provisional.