Day 4 of the Mirror World Sailing Championships and the weather forecast for Lough Derg was more amenable that had been expected. Boats launched in incessant rain with a light southerly breeze. The first race took three attempts as has become the norm for first race. Third time lucky and all got away with Ridegly Ballardes from the Philippines took the left side of the course along with Ireland's Alfie Wisdom and the UK's Robert Bellfield. As the leg progressed the left side certainly looked like it was paying off with Sarah Richards (GBR), Ridgely Balladares and Ryan Robinson from South Africa following suit. Douglas Elmes (IRL) took the middle but certainly looked separated from the leaders during the early stages. Aside from Alfie Wisdom the best Irish at this point was Jack Maye who was also on left side of the course.
Sarah Richardson was first to weather mark followed by Ryan Robinson and Ridgely Balladares. A few boat lengths later was Nigel Thomas from the UK and local Alfie Wisdom who was having a great leg. The left side certainly paid off with right hand side boats well back at weather mark. Down the spinnaker leg Isabel Davies and Katies Davies started to make a move on the leaders. With the wind starting to increase and visibility reducing with the rain it was hard to see where the leaders were coming from during the early part of the upwind leg. Sarah Richards seemed to go right with most of the others up the middle. Nigel Thomas and Alfie Wisdom had now overtaken Ridegly Ballardes however Sarah Richards had extended her lead at second weather mark and held it to the finish. A battle ensued between Nigel Thomas, Ridegly Ballardes and Ireland's Alfie Wisdom down the reach and spinnaker leg with Thomas and Wisdom eventually taking 2nd and 3rd respectively . Overnight leader Ryan Robinson sailed conservatively and finished in 6th while Douglas Elmes who had been 5th overall could only manage an 18th. Ireland's Kerri-Ann Boylan had a storming race and took 9th to be second Irish boat home. The wind picked up at the end and a number of backmarkers capsized with a few retiring before the second race.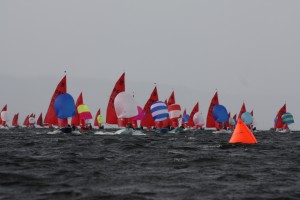 The second race got away the first time with wind steady about 180 degrees. At the pin end David Coady from the UK had a great start followed closely by Rachel Grayson, Esme Shepard and Ridegly Ballardes. With the rain now belting down it looked like the fleet were favouring left side again. Rachel Grayson was the clear leader up the beat with Douglas Elmes now showing alongside Ridegly Ballardes, Robert Belfield, Sarah Richards and Katie Davies. Alfie Wisdom looked like the next Irish boat but he had to do penalty turns and was slow away from the mark. The PRO called for weather mark to be moved further out for next beat as fleet made their way down to bottom mark in a lightening breeze. The lead boats maintained their positions around bottom mark but Rachel Grayson had extended her lead. Series leader Ryan Robinson had been sailing conservatively and at times looked like it was not flying a spinnaker but was still in contact with the top five. Rachel Grayson came out of the right hand side of beat with Sarah Richards, Katie Davies and Ryan Robinson, while Douglas Elmes and Ridegly Ballardes took the middle left.
Rachel Grayson rounded weather mark for the last time with further extended lead with clearly the minor placing between the next five or six boats. Douglas Elmes seemed to get round second followed by Sarah Richards and Katie Davies. The latter had a great leg and got ahead of Douglas Elmes at bottom mark and moved in to second place as they rounded for the short beat to the finish. Douglas Elmes was also under pressure from Ridegly Ballardes and had to be satisfied with a 4th while Sarah Richards finished 5th. Overall leader Ryan Robinson seemed happy to not get too engaged and finished 9th and with a second discard kicking in he still leads.
All results are provisional.
Lough Derg Yacht Club (LDYC) has a long association with the Mirror Class; club members Peter Bayly and his cousin William Atkinson won the Mirror World Championships held at Howth in 2001. Ireland has won the Mirror Worlds in South Africa in 1999, in Tasmania in 2003, and in 2011 Ross Kearney and his crew Max Odell from the Royal North of Ireland Yacht Club, won the World Championship in Australia, having achieved the European title the same year.
In 2011 LDYC sailors Alfie Wisdom and his crew Sam Warren won the Mirror Nationals, and with his Australian crew Harry Sutcliffe-Woelders, Alfie finished 24th in the World Championship in Australia earlier that year.
Our current Olympian sailor, Annalise Murphy, competed in the Waterways Ireland Mirror European Championships when they were held here on Lough Derg in 2004, Ms. Murphy's father, Con Murphy, is the Principal Race Officer for this championship.  Lough Derg, a fresh water, non-tidal lake, will provide competitive and challenging racing, on courses set by Mr. Murphy and his Racing Committee.