The Irish Coast Guard Sikorsky S92 helicopter was launched on Thursday, January 16 at the Search and Rescue base at Waterford Airport.
The new helicopter will serve the South and South-eastern region of the country on a 24 / 7 basis, as the base has done since it opened in May 2002.  During this time the Waterford Base has responded to over 1,313 emergency taskings countrywide in addition to routine work with the RNLI, HSE, Garda Siochana, Defence Forces, Local Authorities and many other agencies.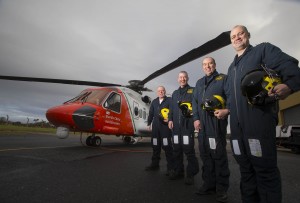 The new S92 Helicopter will now enable the crew to increase their range to 270 miles, reach a top speed of 160 miles per hour, carry a greater number of casualties, and operate in more adverse weather conditions than its forerunner and also carry out taskings for the HSE including transporting patients or organs for transplants to the UK.
Commenting on the arrival of the new Search and Rescue Helicopter, the Waterford base Chief Pilot Ciaran Parker said, "144 missions were carried out from this base during 2013. This was an increase of 40% on 2012. Nationally there were over 2,600 SAR taskings for the Coast Guard during 2013. The type of tasks we carry out vary on a daily basis; our paramedic/winch crew provide medical services on SAR missions and inter-hospital transfers. We also transport specialist medical teams and can accommodate stretchers, incubators, medical equipment and personnel. Our emergency rescue scenarios are not only coastal; we also assist with inland and mountain incidents, and work with all other Emergency Services – Gardai, HSE, RNLI, Air Corps, Naval Service, Civil Defence, CRBI and Irish Mountain Rescue Association and in general any situation which may require casualty evacuation."
Speaking on behalf of the Irish Coast Guard Declan Geoghegan, Operations Manager, announced the launch of a competition to name the new Rescue 117 Helicopter based in Waterford. The competition is running until January 24th and entries can be made via the Waterford Airport Facebook page and via Beat 102 103.
Desmond O'Flynn, CEO, Waterford Airport, added: "Waterford Airport is proud and honoured to be the base for such an important and visible public service, provided by Irish Coast Guard, as part of Department of Transport, and which is at all times is an integral part of our day to day operations".
Fr. Paul Waldron and Rev Maria Jansson carried out a blessing on the new Search and Rescue Helicopter and Fr. Brian Power of Dunmore was also in attendance.
•    Further information is available from www.ircg.ie; www.chcsar.com and www.flywaterford.com.