Ireland's bathing waters continue to be of a very high standard, with 94 per cent of identified bathing areas meeting new stricter EU standards.
• These new standards are almost twice as strict as those previously applied.
• A new category of 'Excellent' quality has been introduced and three quarters of Irish bathing waters met this new classification.
• Seven bathing waters (1 inland, 6 coastal) failed to comply with the minimum mandatory standard and were classified as being of 'Poor' quality.  Pollution sources appear to be mainly linked to the impacts of wastewater discharges.
• Ireland currently has 136 identified bathing waters. The EPA would encourage local authorities and the public to identify more locations.
• The assessment of water quality in 2014 was undertaken using data from the 2011-2014 bathing seasons rather than just the annual data as in previous years.
21st April 2015:  "Overall, the quality of Ireland's bathing waters continues to be very good and new standards introduced in 2014 provide a much higher level of protection for bathers," said Dr Matt Crowe, Director of the EPA's Office of Environmental Assessment.  Dr Crowe was speaking at the launch of the Environmental Protection Agency (EPA) report Bathing Water Quality in Ireland – A Report for the Year 2014.
Dr Crowe continued,
"Disappointingly, seven identified bathing waters have been assessed as being of poor quality.  The relevant local authorities and Irish Water have put management plans in place to tackle the main pollution risks at these beaches.  The test will be whether or not we see the necessary improvements in water quality at these beaches."
Identified bathing waters are sea, river or lake waters widely used by the public for bathing that are monitored, managed and assessed under the requirements of the 2008 Bathing Water Quality Regulations.  Peter Webster, EPA Senior Scientific Officer said,
"Ireland has many superb beaches and while monitoring them all would be quite impractical, the EPA would like to see an increase in the numbers of identified bathing areas.  In addition to the 136 EU identified bathing waters assessed in this report, we have included for the first time details of other waters which are also being monitored by local authorities.  These bathing waters are located in smaller or less popular locations and many are being monitored on a voluntary basis. While they do not come under the legal framework of the Bathing Water Regulations we feel it is important to let the public know about their quality and we would like to see many of them included in the national programme in the future."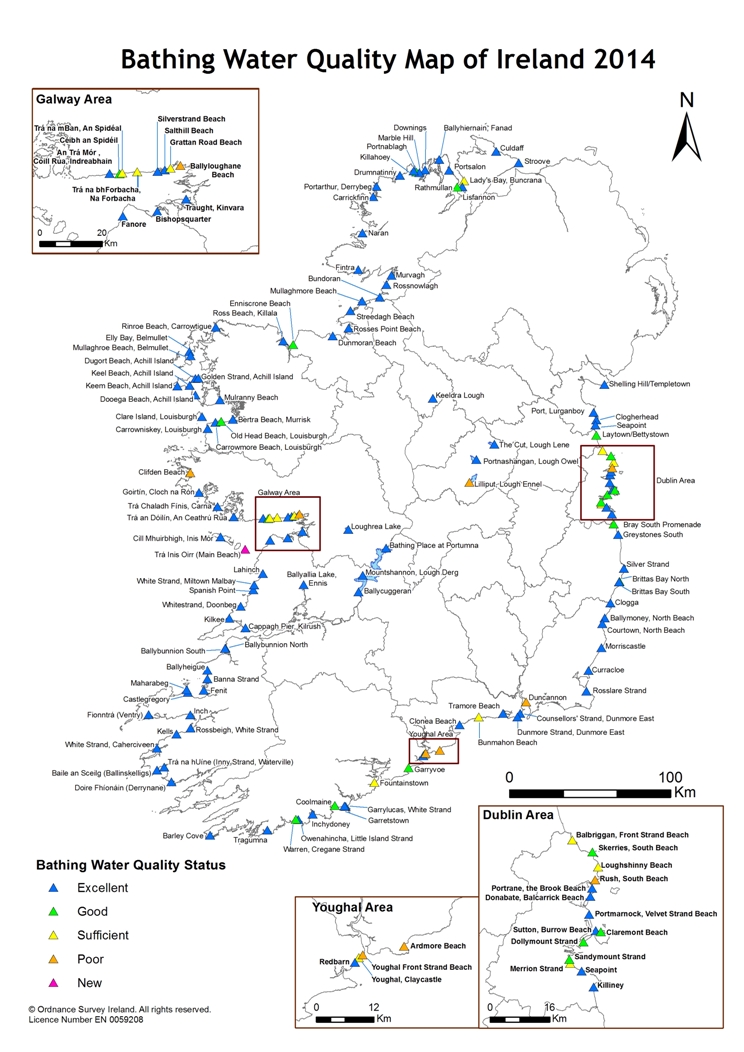 2014 Report Findings
• In 2014, 94% of bathing waters (128 of the 136 bathing areas) complied with the new stricter EU minimum standards and were classified as achieving at least 'Sufficient' water quality status.
• Three quarters of bathing waters (103 of 136 or 76%) were classified as being of 'Excellent' water quality.
• A further 11% (15 of 136) were classified as being of 'Good' water quality.
• 10 bathing areas (7.4%) were classified as being of 'Sufficient' water quality. These waters remain vulnerable to episodic pollution which means they are potentially at risk of being classed as Poor at some future stage.
• One new bathing water (Trá Inis Oirr) was added in 2014. This water had been monitored by Galway County Council for several years previously and water quality meets the 'Excellent' standard.
• Seven waters (5.1%) failed to meet the minimum required standard and were classified as being of 'Poor' quality. These were:
Bathing Water
Local Authority
Youghal (Front Strand)
Cork County Council
Ardmore
Waterford City and County Council
Duncannon
Wexford County Council
Rush (South beach)
Fingal County Council
Lilliput (L. Ennell)
Westmeath County Council
Clifden
Galway County Council
Ballyloughane
Galway City Council
In relation to the 'Poor' quality waters Peter Webster said,
"In conjunction with Irish Water, Local Authorities have prepared and submitted to the EPA management plans for improving water quality at these sites.  In the case of Youghal and Clifden, new sewage works are being constructed.  A temporary wastewater treatment plant is proposed for Duncannon while in Ardmore improvements to the effluent disinfection system that operates during the bathing season are being undertaken.  In the other locations, a broad range of measures aimed at identifying and tackling the main pollution sources is being implemented".
On whether or not it was safe to bathe at these sites Peter Webster said,
"The fact that these waters have been designated as being of 'Poor' quality means that there is a requirement for local authorities to put in place notification for the entire bathing season advising the public against bathing, but this could include a bathing prohibition if a pollution incident occurs. Throughout the season, up-to-date bathing water quality information and details of any incidents affecting bathing waters will be displayed on the national bathing water website, Splash,splash.epa.ie.  Bathers visiting these waters are advised to check the website and their local beach notice boards for information on current water quality.  We have also set up a Twitter notification service, @EPABathingWater, to provide incident alerts and information of interest to bathers."
The summary report Bathing Water Quality in Ireland – A Report for the Year 2014 and map of the quality of Ireland's bathing water sites are now available.