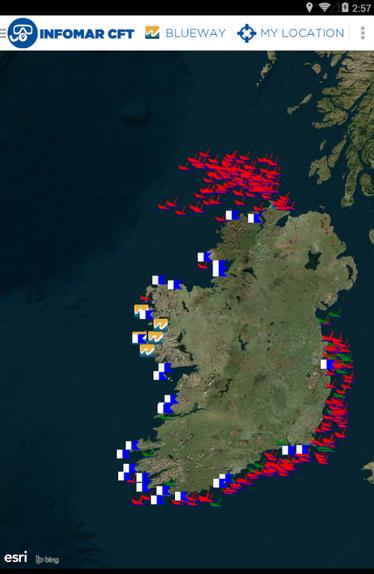 By Gearoid O'Riain, Compass Informatics
Compass Informatics with the INFOMAR seabed survey programme and Comhairle Fé Thuinn announces the release of a new app for snorkelling and diving in Ireland . Available at no cost, currently for Android phone.
A new diving app – the INFOMAR CFT Dive Guide – has been released by Compass Informatics, a Dublin-based information and location technologies company. The app brings together a range of information to help divers and snorkelers alike to plan their activities, and through its focus on Blueway sites, it promotes the tourism value of these activities. INFOMAR and other marine data are central to the app and so seabed, current, tidal, wave and other data are combined with dive and snorkel site locations. Shipwreck data is included too, including the many U Boat sinkings around our northwest coast. The development has been funded from the INFOMAR programme which supports research around sharing of its seabed data to various user groups such as divers and snorkelers, and has benefitted too from guidance from the diving community and Comhairle Fe Thuinn. This is the first release of the app and it will be enhanced over the coming years with more information and also a version for Apple and other phones – it is currently available for Android phones, and feedback on the app features is asked for.
For further information contact Gearóid Ó Riain, Managing Director (goriain@compass.ie, tel +353 1 2104580, mobile +353 87 2902343).
Link to download – https://play.google.com/store/apps/details?id=com.infomar.infomardiving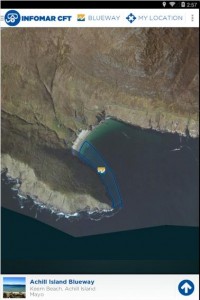 About Compass Informatics: Compass Informatics is an information and location technologies company that creates management systems in a range of areas including environment, transportation, planning, heritage and tourism, agriculture, biodiversity, nutrient management, land & asset management. The company creates these systems for leading clients across Ireland, the UK, and South Africa and is an example of an Irish company applying innovation to generate jobs and exports. Focussing the location aspect of information, Compass creates map viewers, mobile apps, and management dashboards that help present and share data in ways that make the information easy to understand and suitable for decision making. Compass Informatics operates the National Biodiversity Data Centre under a long term service agreement with the Heritage Council and the Department of Arts, Heritage, and the Gaeltacht.
Web and Social Media links: www.compass.ie; https://twitter.com/CompassInfo; https://www.facebook.com/CompassInformatics; https://www.linkedin.com/company/compass-informatics_2.
About the Irish Underwater Council / Comhairle Fé Thuinn (CFT): The Irish Underwater Council (CFT) is the national governing body for recreational underwater sports in Ireland. It was founded in 1963 to organise and promote sport scuba diving and snorkelling and has grown since then to incorporate over 80 clubs around the country. CFT is ISO accredited, highlighting our professionalism, instruction skills and individual development. For those interested in learning to Scuba Dive or Snorkel our doors are always open to the complete beginner as well as the more experienced Diver. CFT objectives are to allow you to develop the skills required to excel at this amazing activity within a friendly, safe, professional and continually developing environment.
About the INFOMAR Progamme: The INtegrated Mapping FOr the Sustainable Development of Ireland's MArine Resource (INFOMAR) programme is a joint venture of the Geological Survey of Ireland (GSI), Dept. of Communications, Energy and Natural Resources (DCENR) and the Marine Institute (Dept. of Agriculture, Food and Marine). This project is currently funding for the period (2014 – 2018) from within the DCENR Department's agreed multi-annual capital envelope. The programme is a successor to the Irish National Seabed Survey (INSS) and concentrates on creating a range of integrated mapping products of the physical, chemical and biological features of the seabed in the near-shore area.
About the National Biodiversity Data Centre: The National Biodiversity Data Centre is a national organisation for the collection, collation, management, analysis and dissemination of data on Ireland's biological diversity. Biodiversity data are a key requirement for understanding our natural surroundings, for tracking change in our environment and for gaining a greater insight on how we benefit from, and impact upon, the ecosystem goods and services provided by biological diversity; a national asset which contributes at least €2.8 billion to the Irish economy each year. The Data Centre was established by the Heritage Council in 2007 and is funded by the Heritage Council and the Department of Arts, Heritage and the Gaeltacht.