Dive Ireland International 2015
in association with
Diving Ireland
 (The Irish Underwater Council) and
Lough Derg Sub Aqua Club
 is the highlight of the SCUBA diving calender. This year, the 10th Irish dive show will take place in The Great National Abbey Court Hotel in Nenagh Co. Tipperary from
February 28th to March 1st 2015
.  The show boasts an unrivaled programme of speakers who will cover a wide variety of topics relating to diving and the underwater world. It will also have a magnificent photography exhibition with a large display of images taken by underwater photographers throughout the passed 12 months.  If that wasn't enough, there will be a trade show at the event where national and international companies will exhibit their wares and overall it is just a fantastic opportunity for divers, snorkellers and lovers of the sea to gather and catch up on the year just passed.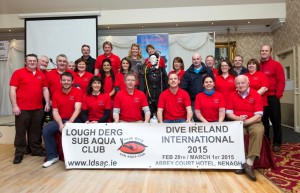 LDSAC hosted a launch night at The Abbey Court Hotel on Tuesday, January 13th 2015 and despite the heavy snowfall and treacherous driving conditions, it was still very well attended. LDSAC would like to take this opportunity to thank Minister Alan Kelly, Cllrs Hughie Mc Grath, Joe Hannigan, Ger Darcy, Seamie Morris and Joe Mc Grath for attending the launch.
Minister for the environment, community and local government Alan Kelly officially launched the event and spoke of his love of Lough Derg and commended LDSAC (one of 83 scuba diving clubs country wide) for all the hard work that was put into the pitch to host Dive Ireland 2015. He also spoke about how the upcoming event is likely to benefit Nenagh's commercial and tourism industries as their is approximately 1500 people expected to attend over the two days.
LDSAC invites all members of the public with a curiosity for SCUBA diving, snorkelling or all things under the sea to attend this event and for further information please visit the website at Diveireland.ie or on Facebook at Dive Ireland 2015. See you there!